SPONSORED YOUTH LEADERSHIP PROGRAMME
Adventure Leadership Expeditions heavily sponsors the Youth Programme as part of our ongoing company philosophy of giving back to the wider community. Our passion is working with youth; we encourage, inspire, educate and mentor young adults to be the very best that they can be.
The sponsored Youth Programme is a unique and exciting educational initiative. It combines challenging environments with practical hands-on learning and application in the outdoors.
Our mission is to offer an adventure leadership programme to youth like none other, tailor-made to their level and their needs, that will lift them to reach their highest potential, but at an affordable price.
The Adventure Leadership Expeditions sponsored Youth Programme is all about challenging young adults, physically and mentally, while giving them an amazing life experience that they can be proud of achieving.
Drawing on a wide range of neurosciences, we use the latest insights into the human brain to provide practical skills and tools that simply work.
The Adventure Leadership Expeditions Youth Programme can be seen as a reward focused expedition at the end of the year for the highest achieving senior students, it can be an annual class trip, or it can be for organizations specializing in youth leadership and development. [aio_button align="right" animation="swing" color="red" size="small" icon="none" text="Make A Booking Enquiry" relationship="dofollow" url="http://adventureleadershipexpeditions.co.nz/contact/"]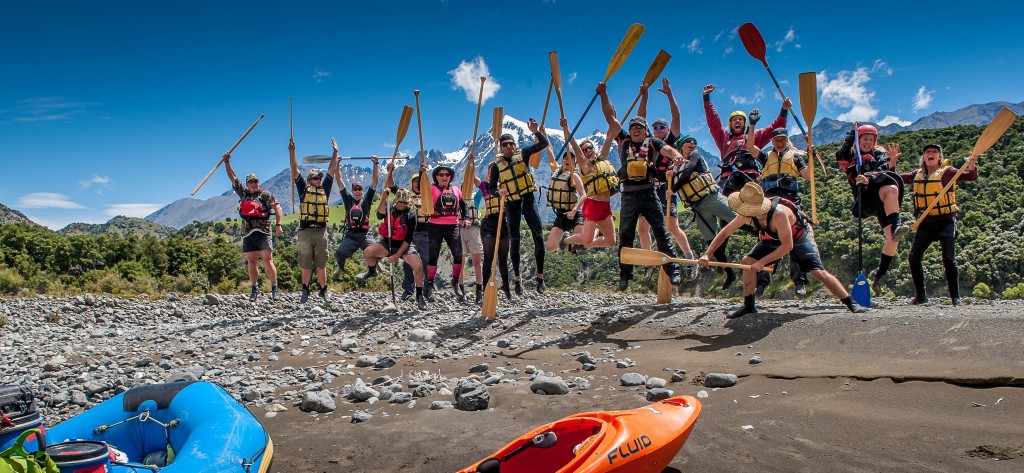 The Adventure
The expedition entails whitewater rafting the length of the majestic Clarence River, over 6-days / 5 nights. The rafting adventure begins the best part of 1 kilometer in altitude within the heart of Molesworth Station, approximately 30 kilometers north of Hanmer Springs. It ends 6-days later at the Pacific Ocean, approximately 45 minutes north of Kaikoura.
The Clarence River runs through remote and rugged scenery, seldom visited due to its inaccessibility. The river slices a path following a fault line between two colliding tectonic plates. On either side the Inland and Seaward Kaikoura Mountain ranges rise to almost 10,000 feet.
It is truly an exceptional journey, both physically and mentally, where students will be challenged and rewarded with a massive sense of achievement upon completion. 
[aio_button align="right" animation="swing" color="red" size="small" icon="none" text="Click For More Detailed Information On The Expedition" relationship="do follow" url="http://adventureleadershipexpeditions.co.nz/expeditions/"] 
*   6-days of physical, mental and emotional challenges, with massive rewards. 

*   A journey of 220kms by raft, down one of New Zealand's longest and most remote wilderness rivers. 
*   Extremely high safety standards with experienced guides and team leaders.
*   Grade 2 – 3 river, which is easy and safe to paddle. 
*   Powerful and life changing.
*   Team bonding, character building and educational.
*   Leadership development.
*   A huge sense of achievement.
*   No previous rafting experience is necessary.
*   A safe, exciting and highly professional educational expedition.
The Physical Learning
Students responsibilities are to:
*   Follow and carry out instructions on the expedition.
*   Take others in consideration within the group.
*   Compromise with their team members.
*   Make team decisions in real world situations.
*   Learn to be self sufficient in the wilderness.
*   Learn how to read a river and guide a raft.
*   Learn how to read maps.
*   Present in front of their peer's.
*   Keep to a time schedule.
*   Keep a daily journal.
*   Daily action plan.
*   Chose a personal challenge and develop the steps to overcome this.
*   Learn orienteering skills.
*   Learn local Maori and European history, as well as the geological significance of this area. 
*   Take part in training sessions that are experiential, practical and fun.
*   Choose a goal for the future and develop the steps to achieve this.
Other responsibilities on the expedition includes, setting up and breaking camp sites daily, cooking over an open fire, cleaning duties, packing and tying down the rafts at the beginning of each day.
Each student will get the chance to experience guiding a raft at some point during the expedition, this will be under the direct care and supervision of our experienced guides.
All students will have to use their own initiative, live in the moment and be part of a greater team in order to undertake this expedition. As well as this, each student will be encouraged to develop their own legacy, based upon their own passions and aspirations for life.
Absolutely no technological devises will be permitted to come along on the expedition. It's all about being immersed in nature and learning by hands-on experience.  
Benefits To Students
The Adventure Leadership Expeditions Youth Programme is focused on creating better leaders, that in turn lead other students by example. This programme will develop the individuals maturity and self confidence. They will learn their strengths as well as their weaknesses and ways to manage these. Students from different backgrounds will have to team together and work towards a common goal. Strong bonds will be forged between students. 
Benefits To Schools
This can be used as a reward focused programme to encourage students to strive for better grades throughout the year. Send your highest achievers, or reward your senior class students. Develop leadership, responsibility, initiative and maturity in your students. Students will be encouraged to set new learning goals and how to take steps towards these.
The expedition will cultivate self-awareness, discipline, initiative and adaptability within students. A strong focus will be on self-reliance and accountability.   
Strong bonds and friendships will be formed between students undertaking the expedition. Also student interconnections and networks will be enhanced between schools, where multiple schools are involved.
Safety
We have an impeccable safety record on the river. All our guides are qualified and professional with many years of outdoor adventure and guiding experience. All our guides and trip leaders are first-aid accredited.
Satellite phones are carried at all times, in case of an emergency and daily contact with base will be made in the event of urgent incoming messages.
At any point the river can be accessed by local helicopter operators. There is one based in Hanmer Springs near the head of the river, and a second in Kaikoura near the lower section of the river.
The safety aspects of commercial rafting are administered by Maritime New Zealand. Maritime NZ does a yearly audit of all companies SOP (Safe Operating Plans) and issue a compliance certificate. This certificate and Clarence River Rafting's full SOP is available to schools and youth organizations upon request. The SOP is extensive and includes RAM's (Risk Assessment Management) plan.
Bookings And Dates
Bookings can be made according to your school or group requirements, provided there are no other bookings that clash. Bookings will be taken on a first-in-first-served basis and a deposit will be required to secure your place.
There are two things that must be taken into consideration when booking:
* The minimum numbers required for the Youth Programme is 12. We can take a maximum of 40. These numbers include any accompanying adults (teachers and parents) that may be joining the students on this expedition.
* The season for this expedition runs from mid September to mid April. 
Youth Programme Price
Option A:     6-day expedition, fully catered.

Option B:     6-day expedition, students supply own food.

For all local South Island schools or groups, the expedition will begin and end at Cheviot, North Canterbury. It will be your responsibility to get your group to and from Cheviot.
For schools or groups further afield, either within New Zealand or international, who will require flights, the expedition will begin and end at Christchurch International airport. Please allow an additional $50 per person for transportation from Christchurch to Cheviot, North Canterbury, return.
The expedition price is the same for accompanying adults (parents and teachers) that may be joining the students on this expedition. 
Gear Requirements
Students only require warm clothing, waterproof layers, basic personals, and camping gear (tent, sleeping bag, bed-mat). Tents can be shared and we can provide any camping equipment necessary, if there is a short fall. A detailed information sheet and gear list will be provided upon booking.
What Is Included In Your Investment
*   Transportation from starting point, Cheviot, to the put-in, at the head of the Clarence River.
*   All rafting equipment, including spray jackets and pants, dry bags, barrels, buoyancy vests, helmets, paddles.
*  The adventure experience of a life time.
*   All safety equipment.
*  Professional and experienced river guides and trip leaders to ensure your safety.
*   Cooking equipment and cutlery.
*   Food and beverage (optional depending on which price option you choose).
*   Training material and other goodies.
*   Leadership coaching by our team leaders.
*   A set of professional quality photographs from the expedition.
*   A certificate of achievement.
[aio_button align="left" animation="swing" color="red" size="small" icon="none" text="Frequently Asked Questions" relationship="do follow" url="http://adventureleadershipexpeditions.co.nz/frequently-asked-questions-youth/"]